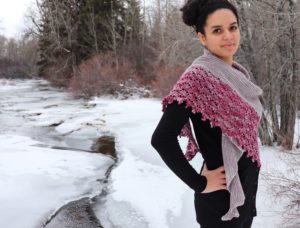 Kits are regularly $81.00, on sale through Thursday, February 8th for 20% off.  Kit includes 3 skeins of Mary Gavan Yarns Hoodoo DK and the Frost Flower Shawl pattern.
Available in 7 color combinations (see below)
Pattern available on Ravelry Friday, February 9th!
Knit-a-long happening in the WayfaringYarns Facebook group.  Request to join!  Fabulous yarn prizes awarded each week during the KAL in my live Monday video.
Winters are long at my home in Alta, Wyoming, but they are not hard.  Winters are lovely, magical even. We have snow powder that falls in a lazy fashion.  We have outdoor ice rinks and nordic ski trails.  We have temperatures that are barely below freezing (for the most part) and we have frost flowers.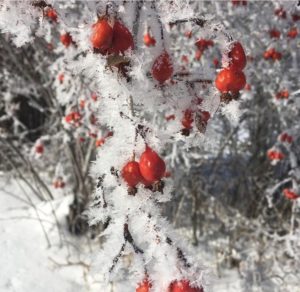 The Frost Flower Shawl is a DK weight asymmetrical triangle shawl. This garter stitch shawl is ornamented with swirls of  easy-to-memorize lace pattern which bring to mind the flowers made by winter and ends with a delicate picot bind off.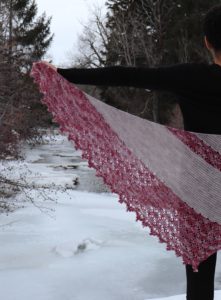 Kits are available in 7 color combinations.